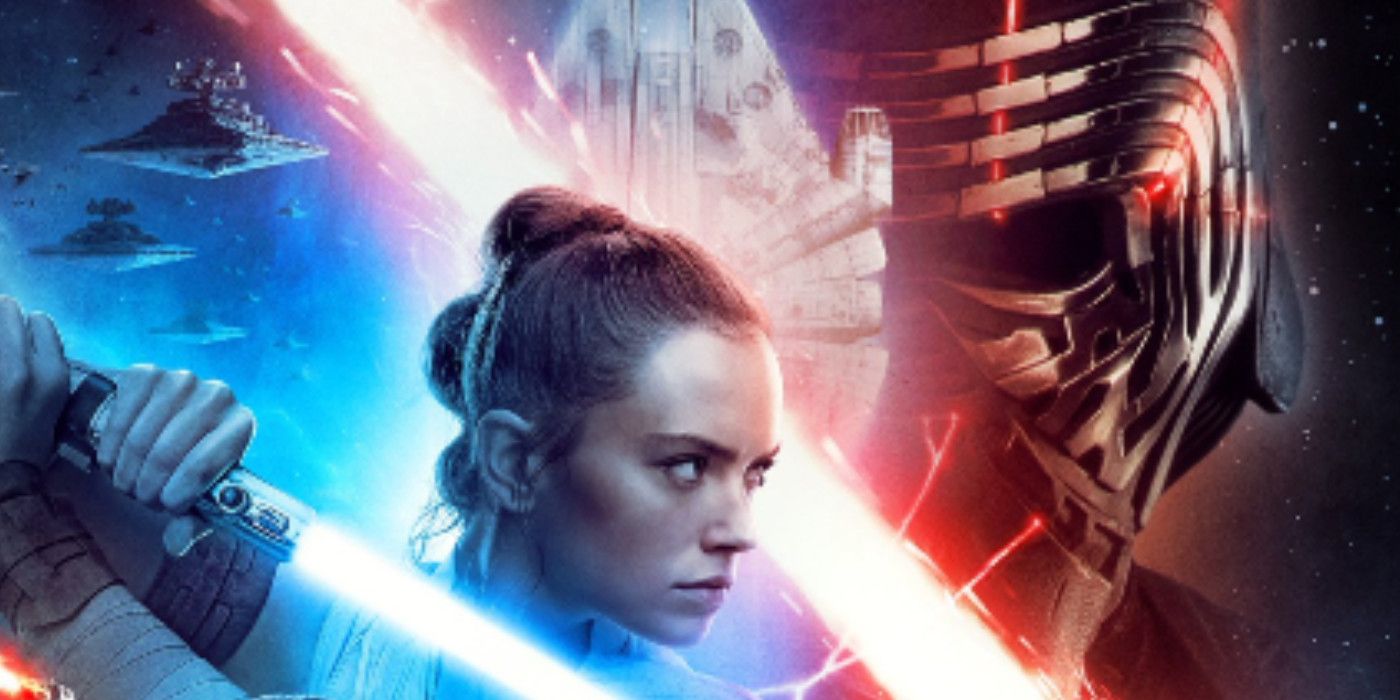 Guest Post by reys–speeder
On Friday, December 6th, a timely two weeks before the release of Star Wars: The Rise of Skywalker, Disney issued a warning that certain scenes in the film would contain flashing lights and may negatively affect those with photosensitive epilepsy. While the announcement was admirable and demonstrated a gesture of goodwill from the company to consumers, there is another warning needed for Rise that the company didn't disclose: That the film romanticizes abuse and assault against women.
It is important to note that the descriptions following technically qualify as spoilers for the new film that debuts in theaters today on Friday, December 20. However, when it comes to the portrayal of serious, harmful, and triggering content, the safety of viewers should be more important than allowing oneself to be surprised while watching a film. Not all surprises are enjoyable.
In order to inform what is meant by abuse and by stating that Star Wars: The Rise of Skywalker promotes unhealthy myths about abusive behavior, work from a specialist in domestic abuse, Lundy Bancroft's (2002) book, Why Does He Do That: Inside the Minds of Angry and Controlling Men will be utilized as a guide to understand how Kylo Ren is abusive, how Rey is his victim, and how The Rise of Skywalker romanticizes abuse by portraying the myth that fixing an abusive man is the ultimate responsibility for a vulnerable young woman.
The abusive character in the film, apt to real life abusers, has two names; two personalities; a 'Jekyll and Hyde' as if to represent his kind side and his abusive side: Kylo Ren and Ben Solo. The abuse victim has only one name: Rey. While they portray the role of abuser and abused throughout all three films, neither of the previous two films went so far in pushing the myth that abuse is romantic, or that the abuse victim must forgive and fall in love with her abuser than did The Rise of Skywalker. Therefore, this analysis will only describe his abusive behavior as they occur in this latest film.
There are two scenes in particular in The Rise of Skywalker that include classic portrayals of Kylo Ren manipulating, abusing, and assaulting Rey. The first scene shows Rey and Kylo Ren talking in a room. The dialogue between the two reads as follows,
"I offered you my hand once, you wanted to take it. Why didn't you?"

"You could have killed me, why didn't you?"

"You can't hide, Rey. Not from me. I'm going to find you, and I'm going to turn you to the dark side. When I offer you my hand again, you'll take it."
Their interaction ends with Kylo approaching Rey and then assaulting her by tearing off the necklace she is wearing, thereby destroying it.
Using Bancroft's work, this scene qualifies as depicting physical abuse. According to Bancroft,
"Physical aggression by a man toward his partner is abuse, even if it happens only once. If he raises a fist; punches a hole in the wall; throws things at you; blocks your way; restrains you; grabs, pushes, or pokes you; or threatens to hurt you, that's physical abuse" (p. 128).
Kylo demonstrates physical abuse not once, but twice in this scene. First, when he threatens to find her and turn her to the dark side, and again when he tears Rey's necklace off. She is visibly shaken and disturbed by the interaction, and there are not many other ways to interpret it other than as physical abuse by Kylo Ren towards Rey.
In the second scene, Kylo and Rey again find themselves in the same room. The dialogue reads,
"Wherever you are, you're hard to find."

"You're hard to get rid of."

"I pushed you in the desert because I needed to see. I needed you to see who you are. I know the rest of your story, Rey."

"You're lying."

"I never lied to you, your parents were no one. They chose to be. To keep you safe."

"Don't."

"I've been in your head."

"I don't want this!"

"Search your memories."

"No!"

"They sold you to protect you."

"Stop talking!"
If your stomach lurched reading this dialogue, you may want to prepare yourself if you plan on actually watching it. Daisy Ridley, the actress who plays Rey, emotes in a heart wrenching manner and portrays her pain and discomfort to a degree that it is hard not to hurt along with her. Rey's repeated cries for Kylo to stop, and his unwillingness to, immediately bring to mind the trauma that so many people, especially women, experience at the hands of men.
The most dangerous part of the film, unfortunately, masquerades as a happy ending. Kylo Ren inexplicably 'sees the light,' so to speak. He decides to change his actions and comes to aid Rey in her fight against Emperor Palpatine. The battle ends in their embrace and kiss. Strange writing aside, the decision to portray Kylo Ren first as an abuser and then as someone who has changed his ways feeds into the myth—and yes, it is a myth—that abusers can easily change to become loving, respectful partners. The reality is, according to Bancroft, "the majority of abusive men do not make deep and lasting changes even in a high-quality abuser program" (p. 335). While change is possible for abusive men, the most effective motivation for change are external factors, such as risk of the woman leaving them, or requirement by the court. He states,
"The initial impetus to change is always extrinsic rather than self-motivated. Even when a man does feel genuinely sorry for the ways his behavior has hurt his partner, I have never seen his remorse alone suffice to get him to become a serious client" (p. 335).
This means that even if the abusive man is genuinely sorry and remorseful for his actions, it is typically not enough. Bancroft writes,
"The salient point about remorse, however, is that it matters little whether it is genuine or not. Clients who get very sorry after acts of abuse change at about the same rate as the ones who don't. the most regretful are sometimes the most self-centered, lamenting above all the injury they've done to their own self-image." (133)
By this meaning, The Rise of Skywalker promotes the myth that any type of love, whether from Rey, from Han Solo, from Leia Organa, from Luke Skywalker, from anyone; any type of love would be enough to realistically motivate Kylo Ren to feel remorse and change his abusive behavior, when, in the real world, that is almost never the case for abusive men. The fact that the film portrays this story, as if the moral should be heralded rather than treated as a myth, is unbelievably irresponsible for any company to do, let alone one like Disney that espouses itself as a family friendly company.
Not only does this message spread a harmful myth, it promotes an ideal that will likely make the situation worse for an abused person. Bancroft explains,
"An abused woman tends to pour precious energy into supporting her abusive partner and massaging his ego, hoping against hope that if he is kept well stroked his next explosion might be averted. How well does this strategy work? Unfortunately, not very. You can't manage an abuser except for brief period. Praising him and boosting his self-opinion may buy you some time. But sooner or later he'll jump back into chewing pieces out of you. When you try to improve an abuser's feelings about himself, his problem actually tends to get worse" (p. 42-3).
The film portrays Rey as finally doing enough to change Kylo Ren's mind, after two and a half films, with help from Han and Leia, to leave the dark side and join the light. When in reality nothing an abused woman does ever becomes enough for the abusive man.
As if that weren't enough, the film portrays the message that an abusive relationship is desirable, sexy, and romantic. It portrays the relationship between Kylo Ren and Rey as one that viewers in the audience should model and emulate. And in doing so, it validates every abuser's narrative within the audiences watching The Rise of Skywalker. It confuses love with abuse and spreads perhaps the biggest myth of all at the heart of every abusive relationship: that love and abuse can coexist, or even that abuse occurs because the love is so strong. Bancroft disputes this, arguing,
"There is a wide acceptance in our society of the unhealthy notion that passion and aggression are interwoven and that cruel verbal exchanges and bomblike explosions are the price you pay for a relationship that is exciting, deep, and sexy. Popular romantic movies and soap operas sometimes reinforce this image." (p. 30)
Bundy's passage dispels the myth that love and abuse can coexist. That it is a falsity to believe someone can love their partner while still abusing them. He even calls upon popular media programs in stating that the messages portrayed can reinforce this belief. He goes on to say,
"The confusion of love with abuse is what allows abusers who kill their partners to make the absurd claim that they were driven by the depths of their loving feelings. … Genuine love means respecting the humanity of the other person, wanting what is best for him or her, and supporting the other person's self-esteem and independence. This kind of love is incompatible with abuse and coercion" (p. 65).
One reason it should cause immediate alarm for anyone considering watching The Rise of Skywalker is because abuse of women is unimaginably widespread and has been declared by the U.S. Surgeon General that the number one cause of injury to young women is attacks by male partners (2002, p. 7). One in three women experience some form of physical violence by an intimate partner, and one in four experience severe physical violence (NCADV). This means that 2 to 4 million women are assaulted by their partners every year. That is a lot of women being abused, and it is a lot of men doing the assaulting, many of which will likely be watching The Rise of Skywalker in theaters sometime this holiday season.
This also means that there were a lot of abuse survivors among those in the audience, including the author of this piece, including many other abuse survivors that shared their stories anonymously[1]. One person writes,
"[Kylo] reminds me of my abusive ex who essentially told me she could take whatever she wanted. She was older and stronger and could force me if she wanted to. [The Last Jedi] made me think of how she kept trying to force herself into my life.
Seeing Rey and Kylo kiss [in The Rise of Skywalker] would basically tell me that I have to forgive her, that I'm wrong for wanting to protect myself and distance myself from her. It's a kick to my face and… it makes me feel sick just thinking about it. I cried earlier, I broke down."
Another anonymous abuse victim shared,
"I have a history with emotional abuse and manipulation, so when I see everything that happened between Rey and Kylo, how the novel of the force awakens describes how scared she was and how much pain she was in during the mind probe, how strongly it read like a rape, how Kylo murdered his father and burned into Finns shoulder while he screamed, all of that horrible stuff, to then read that in the end Rey does in fact love him and they kiss is just…. An insurmountable barrier between me and the story.
Like… Was I reading the situation wrong? Was Kylo as evil as I felt he was? Did he really abuse Rey? Was I even really abused? It's like I don't know if I should even trust myself or my perspective on those things anymore. Surely Disney wouldn't put them together if it was as abusive as it felt right? I must have been wrong then, right?
Apparently, Disney says that's the case, Rey is an icon for little girls, surely, they wouldn't want to show her in an abusive relationship, what example would that set? So, I must be the wrong one, right?"
Another anonymous assault survivor shared a story of how they had been sexually assaulted by their mother's ex-boyfriend. They write,
"[My assaulter] played it off as a joke saying it wasn't a big deal and then my mom kicked him out. This fits into the Star Wars sequels because, to me, he is now Reylo. He is everything I fear and have anxiety over.
I just want my message to be heard and I want young people to look up to a better female icon that Rey ever will be. It's scary to share your story but if it can help others than that's all I want."
These stories are not enough to capture the shock, pain, humiliation, and confusion many audience members will experience as they go to see The Rise of Skywalker in theaters this weekend and holiday season. For many that are avoiding leaks to the film, they will be exposed to the abuse apologism abruptly and without any kind of trigger warning. Families and young children will go to watch the film, and young people, boys and girls alike, will consume the messages Disney is sending: that abuse makes romance sexy and fulfilling, that an abuser can be cured with love, and that young girls should strive to "fix" an abusive man, as if it is her only role as a heroine to do so.
Nothing can stop the harm that this film will cause, and its effects will be long lasting and widespread. The very least that can be done to try to minimize that harm is to refuse to support the film by watching it, or by educating yourself on abusive behavior and relationships in order to prevent yourself from internalizing any of the toxic messages the film portrays.
---
[1] Formatting has been edited for this article.